Summary
Current Position: US Representative for OK 1st District since 2018
Affiliation: Democrat
Former Position(s): Businessman from 1999 – 2018
Featured Quote: 
Pelosi told Capitol police to arrest any of my staff that refused to wear a mask… yet Biden & Pelosi are letting almost 200k illegal immigrants per month pour across our southern border w/o regard to the spread of COVID across our country. Still they say they care about America?
Featured Video: 
Hern praises welfare reform, work requirements as the only path to self-sufficiency
News
Midway through his second term, 1st District Congressman Kevin Hern has positioned himself about where he wants. He has a seat on the House Ways and Means Committee and what seems to be growing influence on GOP tax and health care policy.
Besides the plum committee assignment, Hern is chairman of the Budget and Spending Task Force of the Republican Study Committee, the policy arm of the House Republican conference, and is on a House GOP health care task force.
These developments are very much in line with Hern's ambitions when he became a congressional candidate in 2018. Then the owner of several businesses, including a string of McDonald's restaurants, he went to Washington with definite ideas about about he wanted to do.
Federal spending and health care system reform were near the top of his list.
i
News from Congressman Kevin Hern
Twitter
About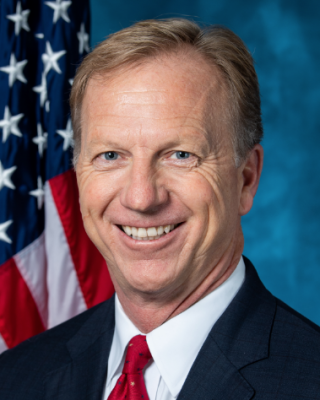 Source: Government page
Born on an Air Force Base, Kevin Hern gained an early appreciation for the sacrifices that military families make. In high school, Kevin earned an Architectural Drafting Certificate at a Career Technology school, which he used to work and pay for his Engineering degree. Later in life, he earned his MBA.
He went on to work as an Aerospace Engineer for Rockwell. Then began saving to purchase his first McDonald's Restaurant by starting and operating small business ventures: writing computer programs to automate tasks for businesses, real estate, and even hog farming.
In 1997, Kevin literally sold the hog farm to buy his first McDonald's restaurant in North Little Rock, Arkansas. In 1999, he purchased two McDonald's restaurants in Muskogee, Oklahoma. He grew that organization over the next decade; eventually owning 24 McDonald's restaurants that employed hundreds of people in the Tulsa, Oklahoma area.
Kevin has worked across every aisle by serving in various leadership positions within the McDonald's system – what he dubs the most grassroots business in the world. He served 13 years on the National Leadership Team that represented all of the 3,500+ U.S. Franchisees, serving for 8 years as the Ombudsman and 5 years as the chairman of the Systems Economic Team.
In addition to McDonald's, Kevin has been a very successful entrepreneur in the areas of banking, manufacturing, real estate development, multiple technology companies, and sports publishing.
He uses this business acumen to help aspiring entrepreneurs create new businesses, so they can pursue their American Dream.
Kevin Hern was sworn into Congress on November 13th, 2018 serving the remainder of Congressman Jim Bridenstine's term. Kevin and his wife Tammy live in Tulsa and have three children. They are members at the Church at Battle Creek.
Voting Record
Caucuses 
Republican Study Committee, Budget and Spending Task Force Chairman
Small Business Caucus, Co-Chair 
Pro-Life Caucus
Southern Caucus
Taiwan Caucus
Border Security Caucus
Municipal Finance Caucus
Values Action Team
Republican Israel Caucus
Congressional Tourette Syndrome Caucus
Diabetes Caucus
Congressional Sportsmen's Caucus
Western Caucus
Native American Caucus
Air Force Caucus
House Energy Action Team
Freshman Working Group on Addiction
Spina Bifida Caucus
Congressional Caucus on Armenian Issues
Congressional Chicken Caucus
Congressional Fires Services Caucus
Congressional Rare Disease Caucus
Congressional Azerbaijan Caucus
ALS Caucus
Library of Congress Caucus
Offices
Washington, DC Office
1019 Longworth House Office Building
Washington, DC 20515
Phone: (202) 225-2211
Get Directions to the DC Office
District Offices
Tulsa Office
2448 East 81st Street
Suite 5150
Tulsa, OK 74137
Phone: (918) 935-3222
Get Directions to the Tulsa Office
Contact
Email:
Web
Government Page, Campaign Site, Twitter, YouTube, Facebook, Wikipedia
Politics
Source: none
Campaign Finance
Open Secrets – We Follow the Money
Voting Record
VoteSmart – Key Votes & Ratings
Search
Wikipedia Entry
Kevin Ray Hern (born December 4, 1961) is an American businessman and politician from the state of Oklahoma. A Republican, he is a member of the United States House of Representatives for Oklahoma's 1st congressional district. He was first elected in 2018.
Early life and education
Hern graduated from Dover High School and Arkansas Tech University in 1986 before working at Rockwell International while pursuing a PhD in astronautical engineering at the Georgia Institute of Technology.[1] He received his MBA from University of Arkansas, Little Rock in 1999.[2]
Career
After the Space Shuttle Challenger disaster, Hern had difficulty finding a job, and became a McDonald's franchisee. He bought his first McDonald's in North Little Rock, Arkansas in 1997. He sold the North Little Rock franchise in 1999 to move to Muskogee, Oklahoma, where he bought two franchises. He expanded his business to 18 franchises in the Tulsa, Oklahoma, area.[1]
U.S. House of Representatives
Elections
2018
After Jim Bridenstine resigned from the United States House of Representatives in 2018 to become administrator of NASA, Hern ran to succeed him in Oklahoma's 1st congressional district in the 2018 elections. Hern advanced to the runoff,[3][4] where he defeated Tim Harris.[5] He then advanced to the general election, where he defeated Democratic nominee Tim Gilpin.[6] Outgoing Governor Mary Fallin then appointed Hern to serve the balance of Bridenstine's third term. She was able to do so because under Oklahoma law, if a House seat falls vacant in an even-numbered year and the incumbent's term is due to end the following year, the governor can appoint someone to serve the remainder of the term. Accordingly, Hern was sworn into the House on November 13.[7][8]
2020
Hern defeated Democratic nominee Kojo Asamoa-Caesar and Independent Evelyn L. Rogers in the November 2020 general election.
Tenure
During the COVID-19 pandemic, Hern's KTAK Corporation received between $1 million and $2 million in federally backed small business loans from American Bank and Trust as part of the Paycheck Protection Program. KTAK stated it would retain 220 jobs. The loan was seen as notable since Hern is a vocal opponent of deficit spending; in 2018, discussing a balanced budget, he said, "While there is no easy fix to this, the first step is clear: stop adding to it." In 2020, he said, "This isn't a bailout. It's a repayment of what the government has taken away from American workers and businesses."[9][10][11] KTAK operates franchises. During the Paycheck Protection Program negotiations, Hern pushed to increase the amount of aid going to franchises.[11]
In December 2020, Hern was one of 126 Republican members of the House of Representatives to sign an amicus brief in support of Texas v. Pennsylvania, a lawsuit filed at the United States Supreme Court contesting the results of the 2020 presidential election, in which Joe Biden prevailed[12] over incumbent Donald Trump. The Supreme Court declined to hear the case on the basis that Texas lacked standing under Article III of the Constitution to challenge the results of an election held by another state.[13][14][15]
In July 2021, Hern voted against the bipartisan ALLIES Act, which would increase by 8,000 the number of special immigrant visas for Afghan allies of the U.S. military during its invasion of Afghanistan, while also reducing some application requirements that caused long application backlogs; the bill passed in the House 407–16.[16]
Immigration
Hern voted against the Further Consolidated Appropriations Act of 2020, which authorizes DHS to nearly double the available H-2B visas for the remainder of FY 2020.[17][18]
Hern voted against the Consolidated Appropriations Act (H.R. 1158), which effectively prohibits ICE from cooperating with Health and Human Services to detain or remove illegal alien sponsors of unaccompanied alien children (UACs).[19]
Committee assignments
Caucus memberships
Electoral history
Republican primary runoff results

Party
Candidate
Votes
%
Republican
Kevin Hern
40,373
54.9
Republican
Tim Harris
33,138
45.1
Total votes
73,511
100.0
Oklahoma's 1st congressional district, 2018

Party
Candidate
Votes
%
Republican
Kevin Hern
150,129
59.3
Democratic
Tim Gilpin
103,042
40.7
Total votes
253,171
100.0
Republican hold
Oklahoma's 1st congressional district, 2020

Party
Candidate
Votes
%
Republican
Kevin Hern
213,700
63.70
Democratic
Kojo Asamoa-Caesar
109,641
32.68
Independent
Evelyn L. Rogers
12,130
3.62
Total votes
335,471
100.0
Republican hold
Personal life
Hern and his wife, Tammy, have three children and two grandchildren.[21]
References
External links
Issues
Source: Government page
Committees
Committee on Ways and Means (117th Congress)

Subcommittee on Social Security
Subcommittee on Select Revenue Measures
Subcommittee on Worker and Family Support
Committee on Small Business (116th Congress)

Subcommittee on Economic Growth, Tax and Capital Access (Ranking Member)
Subcommittee on Health and Technology

Committee on Natural Resources (116th Congress)

Subcommittee on Energy and Mineral Resources (Deputy Republican Leader)
Subcommittee on Indigenous Peoples of the United States

Committee on the Budget (116th Congress)
Legislation
Sponsored and Cosponsored
Issues