Summary
Current Position: US Senator since 1995
Affiliation: Republican
Candidate: 2022 US Senator
Former Position(s): US Representative from 1987 – 1994; Mayor of Tulsa from 1978 – 1984; State Senator from 1969 – 1977
Other Positions:  
Ranking Member, Subcommittee on Airland – Armed Services
Ranking Member, Subcommittee on Clean Air, Climate, and Nuclear Safety – Committee on Environment and Public Works
Featured Quote: 
Last year, the Federal Communications Commission approved an application by Ligado Networks to repurpose federal spectrum in a way that will drastically interfere with GPS and satellite communications, resulting in devastating effects for every American.
Featured Video: 
Who Is Jim Inhofe? Narrated By Brent Terhune | NowThis
News
STILWELL, Okla. (KNWA/KFTA) — Senator Jim Inhofe has requested $720,000 in federal funds to buy two, brand new ambulances to serve patients of Stilwell Memorial Hospital.
Representatives from Inhofe's office, the hospital and other community leaders gathered to announce the funding request at an event Thursday morning.
OSDH: 52 pediatric cases hospitalized in Oklahoma for COVID-19
"At the end of the day, Jim Inhofe is extremely concerned about rural healthcare, it's one of his top priorities," says Chief of Staff to Senator Inhofe Luke Holland. "So when he learned there was a shortage of ambulances here in Adair County, he wanted to do whatever he could to help."
In addition, The Carson Foundation has already committed to buying a third ambulance for Adair County if federal funds cover the first two.
Twitter
About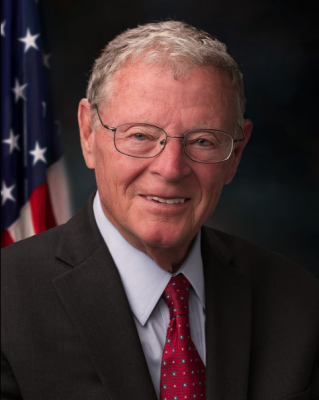 Source: Government page
Jim Inhofe (R-Okla.) serves as chairman of the Senate Armed Services Committee. Sen. Inhofe is a proud Oklahoman and long-time resident of Tulsa, Oklahoma.
While our country is in the most threatened position in American history, Sen. Inhofe remains committed to rebuilding our military from the readiness crisis and addressing the growing threats from our enemies. As the Chairman for the Senate Armed Services Committee, he plays a key role in ensuring that our military has the best equipment, training and resources necessary to meet our nation's diverse security challenges.
Widely regarded by his peers and military leadership as a long time and staunch supporter of our men and women in uniform, he believes that protecting our country is the first function of the federal government, as dictated by the United States Constitution.
A champion of long-term reform of the Defense Department to become more efficient and effective, he has focused on streamlining the acquisition process to avoid more false-starts on modernization programs. He has pushed the military and the defense industrial base to invest in research and development to validate requirements early while simplifying and shortening the process. He has worked relentlessly to deliver the best equipment to our service members, while making sure taxpayers get the best value for their money. Recently he received the Eisenhower Award from the National Defense Industrial Association for his commitment to raising public awareness of the needs of our military and defense communities.
Sen. Inhofe has a long history of public service, beginning with his service in the U.S. Army to his current role in the United States Senate. He has a well-deserved reputation as an unabashed conservative who gets things done. He is a strong advocate for the Right to Life, adoption, and other common sense Oklahoma values, including less government, fewer regulation, lower tax rates, fiscal responsibility, the 2nd Amendment and a strong national defense.
In addition to his role on Armed Services, Sen. Inhofe is also a member of the Environment & Public Works Committee, the Commerce Committee and the Small Business Committee.
As the senior member on the Committee on Environment and Public Works, Sen. Inhofe is a committed supporter of our infrastructure. Inhofe believes one of the inherent roles of government is to provide for a safe and suitable infrastructure to allow our nation access to transportation and fully connect our national economy. In addition to providing for the national defense, he believes the single greatest service we can provide our citizens is the necessary infrastructure to enable the United States to remain the economic engine that drives the world's economy.
Throughout his time in Washington, D.C. Inhofe has worked toward policies that encourage the U.S. to meet its energy needs domestically. He has worked tirelessly to cut through the red tape on unnecessary and burdensome regulations within the oil and gas industry. One of his greatest achievements to date began in 1999, when Inhofe introduced a bill to give states the freedom to make their own decisions about oil and natural gas regulatory structures, including those concerning hydraulic fracturing. The bill was incorporated in the Energy Policy Act of 2005 and provided the regulatory certainty necessary for the shale boom to establish the United States as the global leader in oil and gas production.
The latest battle on fossil fuels was won with the election of President Trump, but the war is still being waged by environmental activists around the country and Sen. Inhofe continues to defend an industry that employs millions of Americans, provides more than a trillion dollars to our economy and helps Americans get to work, heat their homes and cook their meals. With the foundation Sen. Inhofe built and a President who understand the fossil fuel industry, the United States is working to pave a course toward energy dominance.
As member of the Senate Small Business Committee, Sen. Inhofe regularly visits with Chambers of Commerce across Oklahoma. Every community says the same thing: they need relief from overregulation and more support for small businesses. He is an outspoken advocate in Congress for pro-growth policies that allow businesses in Oklahoma and around the country to succeed. In addition, he has worked to ensure family-owned businesses of all types are treated the same under the tax code.
An avid pilot with over 11,000 flight hours, Inhofe became the only member of Congress to fly an airplane around the world when he recreated Wiley Post's legendary trip around the globe. He is a tireless advocate for aviation professionals.
Prior to serving the people of Oklahoma in the U.S. Senate, Sen. Inhofe served in the U.S. House of Representatives, the Oklahoma House and Senate and as Mayor of Tulsa, Oklahoma. Jim and his wife, Kay, have been married 59 years and have 20 kids and grandchildren.
Voting Record
Caucuses 
ghhgggg
Offices
Experience
Work Experience
Served
U.S. Army
1957 to 1958
Member
Oklahoma House of Representatives
1967 to 1969
Member
Oklahoma State Senate
1969 to 1977
Mayor of Tulsa
1978 to 1984
Member
United States House of Representatives
1987 to 1994
Education
Personal
Birth Year: 1934
Place of Birth: Des Moines, IA
Gender: Male
Race(s): Caucasian
Religion: Christian: Presbyterian
Spouse: Kay Inhofe
Contact
Email:
Offices
Washington D.C. Office
205 Russell Senate Office Bldg
Washington, DC 20510
Phone: (202) 224-4721
Fax: (202) 228-0380
Tulsa Office
1924 S. Utica Ave. #530
Tulsa, OK 74104
Phone: (918) 748-5111
Fax: (918) 748-5119
Oklahoma City Office
3817 NW Expressway #780
Oklahoma City, OK 73112
Phone: (405) 208-8841
Fax: (405) 604-0917
McAlester Office
215 E. Choctaw Ave. #106
McAlester, OK 74501
Phone: (918) 426-0933
Fax: (918) 426-0935
Enid Office
302 N. Independence #104
Enid, OK 73701
Phone: (580) 234-5105
Fax: (580) 234-5094
Web
Government Page, Twitter, YouTube, Facebook
Politics
Source: none
Campaign Finance
Open Secrets – We Follow the Money
Voting Record
VoteSmart – Key Votes & Ratings
Search
Wikipedia Entry
James Mountain Inhofe (/ˈɪnhɒf/ INN-hoff; born November 17, 1934) is an American businessman, politician, and soldier serving as the senior United States senator from Oklahoma, a seat he was first elected to in 1994. A member of the Republican Party, he chaired the U.S. Senate Committee on Environment and Public Works (EPW) from 2003 to 2007 and again from 2015 to 2017. Inhofe served as the U.S. representative for Oklahoma's 1st congressional district from 1987 to 1994 and as mayor of Tulsa from 1978 to 1984.
Inhofe is known for his rejection of climate science.[2] He has supported a constitutional amendment to ban same-sex marriage[3] and has proposed the Inhofe Amendment to make English the national language of the United States.[4]
Inhofe served as acting chairman of the Armed Services Committee while John McCain fought cancer in 2018. After McCain's death, he became chairman.[5] Since February 2021, he has served as Ranking Member of the Senate Armed Services Committee.
On July 15, 2021, Inhofe told Tulsa World he planned to retire at the end of his current term, in 2027.[6] In February 2022, The New York Times reported that Inhofe was planning to resign at the end of the 117th United States Congress.[7]
Early life, education, and business career
Inhofe was born in Des Moines, Iowa, the son of Blanche (née Mountain) and Perry Dyson Inhofe.[8] He moved with his family to Tulsa, Oklahoma, as a child. He was a member of the Class of 1953 at Tulsa Central High School,[9] and served in the United States Army from 1957 to 1958.[10] Inhofe received a B.A. in economics from the University of Tulsa in 1973.[11] Until his 1994 campaign for the U.S. Senate, Inhofe's official biographies and news articles about him indicated that he had graduated in 1959.[11] Inhofe initially denied the stories that uncovered the discrepancy,[11] but later acknowledged them.[12] After admitting that the stories were true, Inhofe explained that he had been allowed to take part in graduation ceremonies in 1959 though he was a few credits short of completing his degree, and did not finish his coursework until 1973.[12]
Inhofe worked as a businessman for 30 years before becoming a full-time politician.[13] He worked in aviation, as a real estate developer, and in insurance, eventually becoming the president of Quaker Life Insurance Company. During his curatorship, the company went into receivership; it was liquidated in 1986.[14]
Early political career
State legislature
Inhofe became active in Oklahoma Republican politics in the mid-1960s. He was a member of the Oklahoma House of Representatives from 1967 to 1969, and a member of the Oklahoma Senate from 1969 until 1977, the last four of those years as minority leader.
1974 gubernatorial election
In 1974, he ran for governor of Oklahoma. In October 1974, then President Gerald Ford visited Oklahoma to campaign for him.[15][16] A late October poll by the Daily Oklahoman showed Boren leading 74%–25%.[17] He lost to Democratic State Representative David Boren 64%–36%. Inhofe won only four counties in the election.[18] He lost 57 pounds during the campaign and was down to 148 pounds.[19]
1976 congressional election
In 1976 Inhofe ran for Oklahoma's 1st congressional district. In the Republican primary, he defeated State Senator Frank Keating and Mary Warner, 67%–25%–8%.[20] In the general election, he lost to incumbent Democrat James R. Jones, 54%–45%.[21]
Mayor of Tulsa
In 1978, Inhofe was elected mayor of Tulsa, defeating Democrat Rodger Randle, 51%–46%.[22] In 1980, he won reelection unopposed[23] and in 1982 he was reelected with 59% of the vote.[24]
U.S. House of Representatives
Elections
In 1986, when Representative Jones decided to retire to run for the U.S. Senate, Inhofe ran for the 1st District and won the Republican primary with 54%.[25] In the general election, he defeated Democrat Gary Allison 55%–43%.[26] In 1988 he won reelection against Democrat Kurt Glassco, Governor George Nigh's legal counsel, 53%–47%.[27] In 1990 he defeated Glassco again, 56%–44%.[28] After redistricting, the 1st District contained only two counties, all of Tulsa and some parts of Wagoner. In 1992 Inhofe was reelected with 53% of the vote.[29]
Tenure
In 1987 Inhofe voted against President Ronald Reagan's budget, which included tax increases and no increase in defense spending.[30]
He first came to national attention in 1993, when he led the effort to reform the House's discharge petition rule, which the House leadership had long used to bottle up bills in committee.
U.S. Senate
Elections
In 1994, incumbent Senator David Boren, who had been serving in the Senate since 1979, agreed to become president of the University of Oklahoma and announced he would resign as soon as a successor was elected. Inhofe was elected Boren's successor in an election cycle that saw the Republican Party take both houses of Congress and the Oklahoma governorship (the latter for only the third time in state history). Inhofe took office on November 16, giving him more seniority than the incoming class of senators. After serving the last two years of Boren's term, he won his first full term in 1996. He was reelected in 2002, 2008, 2014, and 2020.
Inhofe does not plan to seek reelection in 2026,[6] and was reported to be planning retirement by the end of the 117th Congress.[31] His retirement triggered a 2022 special election.
Tenure
Fundraising
In the 2008 election cycle, Inhofe's largest campaign donors represented the oil and gas ($446,900 in donations), leadership PACs ($316,720) and electric utilities ($221,654) industries/categories.[32][33] In 2010, his largest donors represented the oil and gas ($429,950) and electric ($206,654) utilities.[34]
The primary PACs donating to his campaigns were Aircraft Owners & Pilots Association ($55,869), United Parcel Service ($51,850), National Association of Realtors ($51,700), National Rifle Association ($51,050) and American Medical Association ($51,000). Additionally, if company-sponsored PACs were combined with employee contributions, Koch Industries would be Inhofe's largest contributor, with $90,950 according to OpenSecrets.[33][35]
Armed Services Committee
As a member of the Armed Services Committee, Inhofe was among the panelists questioning witnesses about the 2004 Abu Ghraib prisoner abuse, saying he was "outraged by the outrage" over the revelations of abuse. Although he believed that the individuals responsible for mistreating prisoners should be punished, he said that the prisoners "are not there for traffic violations … they're murderers, they're terrorists, they're insurgents".[36][37] In 2006, Inhofe was one of only nine senators to vote against the Detainee Treatment Act of 2005, which prohibits "cruel, inhuman or degrading" treatment of individuals in U.S. Government custody.[38][39]
When chairman of the Senate Armed Services Committee John McCain was absent seeking medical treatment for brain cancer from December 2017, Inhofe became acting chairman of the committee. During this time, Inhofe helped secure the passage of the record $716 billion National Defense Authorization Act for Fiscal Year 2019.[40][41] McCain died in August 2018, and Inhofe lauded him as his "hero".
Inhofe also said that McCain was "partially to blame for" the White House's controversial decision to raise flags back to full mast after less than two days, as McCain previously "disagreed with the President in certain areas and wasn't too courteous about it".[42]
On March 6, 2019, Inhofe said he intends to put language in the next defense authorization act to reinforce Trump's decision to withdraw from the Iran nuclear agreement and reintroduce severe sanctions on Tehran.[43]
Committee assignments
Inhofe, as of the 115th Congress, is a member of the following committees:
Caucus memberships
Ideology and opinions
Inhofe was ranked the most conservative member of Congress on the 2017 GovTrack report card.[44] He received the same ranking for 2018.[45] For 2019, he was ranked as the fifth-most conservative member of the U.S. Senate with a score of 0.91 out of 1, behind Marsha Blackburn (R-TN), Joni Ernst (R-IA), Mike Braun (R-IN), and Ted Cruz (R-TX).[46]
Environmental issues
Early years; 2003 Chair of Environment and Public Works committee
In December 1997, Inhofe argued that the Kyoto Protocol was a "political, economic, and national security fiasco."[47]
Before the Republicans regained control of the Senate in the November 2002 elections, Inhofe had compared the United States Environmental Protection Agency to a Gestapo bureaucracy,[48][49] and EPA Administrator Carol Browner to a Tokyo Rose, i.e. an English-speaking spreader of Japanese propaganda during World War II.[50] In January 2003, he became Chair of the Senate Committee on Environment and Public Works, and continued challenging mainstream science in favor of what he called "sound science", in accordance with the Luntz memo.[49]
Climate change denial
Since 2003, when he was first elected Chair of the Senate Committee on Environment and Public Works, Inhofe has been the foremost Republican promoting climate change denial. He famously claimed in the Senate that global warming is a hoax, invited contrarians to testify in Committee hearings, and spread his views via the Committee website run by Marc Morano as well as through his access to conservative media.[51][2] In 2012, Inhofe's The Greatest Hoax: How the Global Warming Conspiracy Threatens Your Future was published by WorldNetDaily Books, presenting his global warming conspiracy theory.[52] He has said that, because "God's still up there", the "arrogance of people to think that we, human beings, would be able to change what He is doing in the climate is to me outrageous",[53][54][55] but also that he appreciates that this argument is unpersuasive, and that he has "never pointed to Scriptures in a debate, because I know this would discredit me."
As Environment and Public Works chairman, Inhofe gave a two-hour Senate floor speech on July 28, 2003, in the context of discussions on the McCain-Lieberman Bill.[56] He said he was "going to expose the most powerful, most highly financed lobby in Washington, the far left environmental extremists", and laid out in detail his opposition to attribution of recent climate change to humans, using the word "hoax" four times, including the statement that he had "offered compelling evidence that catastrophic global warming is a hoax" and his conclusion that "manmade global warming is the greatest hoax ever perpetrated on the American people".[57][58] He supported what he called "sound science", citing contrarian scientists such as Patrick Michaels, Fred Singer, Richard Lindzen and Sallie Baliunas as well as some mainstream scientists. Two of these, Tom Wigley and Stephen Schneider, later issued statements that Inhofe had misrepresented their work.[58][59]
On July 29, the day after his Senate speech, Inhofe chaired an Environment and Public Works hearing with contrarian views represented by Baliunas and David Legates, and praised their "1,000-year climate study", then involved in the Soon and Baliunas controversy, as "a powerful new work of science". Against them, Michael E. Mann defended mainstream science and specifically his work on reconstructions (the hockey stick graph) that they and the Bush administration disputed.[56][60] During the hearing Senator Jim Jeffords read out an email from Hans von Storch saying he had resigned as editor-in-chief of the journal that published the Soon and Baliunas paper, as the peer review had "failed to detect significant methodological flaws in the paper" and the critique by Mann and colleagues was valid.[60][61]
In a continuation of these themes, Inhofe had a 20-page brochure published under the Seal of the United States Senate reiterating his "hoax" statement and comparing the Intergovernmental Panel on Climate Change (IPCC) to a "Soviet style trial". In a section headed "The IPCC Plays Hockey" he attacked what he called "Mann's flawed, limited research."[62][63] The brochure restated themes from Inhofe's Senate speech, and in December 2003 he distributed copies of it in Milan at a meeting about the United Nations Framework Convention on Climate Change, where he met "green activists" with posters quoting him as saying that global warming "is the greatest hoax ever perpetrated on the American people". He signed a poster for them,[49] and thanked them for quoting him correctly. In an October 2004 Senate speech he said, "Global warming is the greatest hoax ever perpetrated on the American people. It was true when I said it before, and it remains true today. Perhaps what has made this hoax so effective is that we hear over and over that the science is settled and there is a consensus that, unless we fundamentally change our way of life by limiting greenhouse gas emissions, we will cause catastrophic global warming. This is simply a false statement."[62][64] In January 2005 Inhofe told Bloomberg News that global warming was "the second-largest hoax ever played on the American people, after the separation of church and state", and that carbon dioxide would not be restricted by the Clear Skies Act of 2003.[65][66][67] In a Senate Floor "update", he extended his argument against Mann's work by extensively citing Michael Crichton's fictional thriller State of Fear, mistakenly describing Crichton as a "scientist".[68][69] On August 28, 2005, at Inhofe's invitation, Crichton appeared as an expert witness at a hearing on climate change, disputing Mann's work.[62]
In his 2006 book The Republican War on Science, Chris Mooney wrote that Inhofe "politicizes and misuses the science of climate change".[70]
During the 2006 North American heat wave, Inhofe said that the environmentalist movement reminded him of "the Third Reich, the Big Lie": "You say something over and over and over and over again, and people will believe it, and that's their strategy."[67][71]
In a September 2006 Senate speech Inhofe argued that the threat of global warming was exaggerated by "the media, Hollywood elites and our pop culture". He said that in the 1960s the media had switched from warning of global warming to warning of global cooling and a coming ice age, then in the 1970s had returned to warming to promote "climate change fears".[72] In February 2007 he told Fox News that mainstream science increasingly attributed climate change to natural causes, and only "those individuals on the far left, such as Hollywood liberals and the United Nations", disagreed.[73]
In 2006 Inhofe introduced Senate Amendment 4682 with Kit Bond (R-MO), which would have modified oversight responsibility of the Army Corps of Engineers. The League of Conservation Voters, an environmentalist group, said analyses for corps projects "have been manipulated to favor large-scale projects that harm the environment."[74] During the 109th Congress Inhofe voted to increase offshore oil drilling, to include provisions for drilling in the Arctic National Wildlife Refuge in the House Budget Amendment, and to deny funding for both low-income energy assistance and environmental stewardship, citing heavy costs and unproven programs.[74]
In May 2009 Inhofe gave support to the idea that black carbon is a significant contributor to global warming.[75]
Inhofe has received monies from the fossil fuel industry. For example: "Exxon's beneficiaries in Congress include the Oklahoma senator Jim Inhofe, who called global warming a hoax, and who has received $20,500 since 2007, according to the Dirty Energy Money database maintained by Oil Change International."[76][77]
Climatic Research Unit email controversy
On November 23, 2009, as the Climatic Research Unit email controversy emerged, Inhofe said the emails confirmed his view that scientists were "cooking the science".[78][79] On December 7 on the CNN program The Situation Room, Inhofe said that the emails showed that the science behind climate change "has been pretty well debunked"; the fact checking organization PolitiFact concluded that Inhofe's statement was false.[80] On the same day, Inhofe said he would lead a three-man "truth squad" consisting of himself and fellow senators Roger Wicker and John Barrasso to the 2009 United Nations Climate Change Conference in Copenhagen. Inhofe was unable to secure meetings with any negotiators or delegations to the conference and only met with a small group of reporters.[81][82][83][84] The minority group of the Senate Committee on Environment and Public Works prepared a report on "the CRU Controversy", published in February 2010, which listed as "Key Players" 17 scientists including Mann and Phil Jones. Inhofe said it showed that the controversy was "about unethical and potentially illegal behavior by some of the world's leading climate scientists."[85][86] On May 26 Inhofe formally requested that the Inspector General of the United States Department of Commerce investigate how the National Oceanic and Atmospheric Administration (NOAA) had dealt with the emails, and whether the emails showed any wrongdoing; it found no major issues or inappropriate actions.[87][88]
Global warming temperatures
In July 2010 Inhofe said, "I don't think that anyone disagrees with the fact that we actually are in a cold period that started about nine years ago. Now, that's not me talking, those are the scientists that say that." The Union of Concerned Scientists said that Inhofe was wrong, pointing to a NOAA report indicating that the summer of 2010 had so far been the hottest on record since 1880. Inhofe added, "People on the other side of this argument back in January, they said, 'Inhofe, it has nothing to do with today's or this month or next month. We're looking at a long period of time. We go into twenty year periods.'"[89][90][91]
During a House committee hearing in 2011, Inhofe testified, "I have to admit—and, you know, confession is good for the soul … I, too, once thought that catastrophic global warming was caused by anthropogenic gases—because everyone said it was."[92] Under questioning from committee member Jay Inslee, Inhofe dismissed the notion that he was less knowledgeable than climate scientists, saying that he'd already given "five speeches on the science."[92]
2015: Chair of Environment and Public Works committee
On January 21, 2015, Inhofe returned to chairing the Senate Committee on Environment and Public Works as part of a new Republican majority in the Senate. In response to NOAA and NASA reports that 2014 had been the warmest year globally in the temperature record, he said, "we had the coldest in the western hemisphere in the same time frame", and attributed changes to a 30-year cycle, not human activities.[93] In a debate on the same day about a bill for the Keystone XL pipeline, Inhofe endorsed an amendment proposed by Senator Sheldon Whitehouse, "Climate change is real and not a hoax", which passed 98–1. Inhofe clarified his view that "Climate is changing and climate has always changed and always will. There is archaeological evidence of that, there is biblical evidence of that, there is historical evidence of that", but added, "there are some people who are so arrogant to think they are so powerful they can change climate."[94]
On February 26, 2015, Inhofe brought a snowball to the Senate floor and tossed it before delivering remarks in which he said that environmentalists keep talking about global warming even though it keeps getting cold.[95]
Hydraulic fracturing
On March 19, 2015, Inhofe introduced S.828, "The Fracturing Regulations are Effective in State Hands (FRESH) Act." The bill would transfer regulatory power over hydraulic fracturing from the federal government to state governments. In his announcement of the bill, Inhofe said that hydraulic fracturing has never contaminated ground water in Oklahoma.[96] The U.S. senators from seven states (Arkansas, Idaho, Kentucky, Louisiana, South Dakota and Texas) cosponsored the bill.[97]
Paris Agreement
Inhofe co-authored and was one of 22 senators to sign a letter[98] to President Donald Trump urging him to withdraw the United States from the Paris Agreement. According to OpenSecrets, Inhofe has received over $529,000 from the oil and gas industry since 2012.[99]
Political positions and controversies
Foreign policy
Israel Anti-Boycott Act
In October 2017, Inhofe co-sponsored the Israel Anti-Boycott Act (s. 720), which made it a federal crime for Americans to encourage or participate in boycotts against Israel and Israeli settlements in the occupied Palestinian territories if protesting actions by the Israeli government.[100][101]
Western Sahara
Inhofe has long supported the Polisario Front and has traveled to Algeria many times to meet with its leaders.[102][103] He has urged Morocco to hold a referendum on Western Saharan independence. In 2017, Inhofe blocked the Trump administration's nomination of J. Peter Pham for Assistant Secretary of State for African Affairs, citing a disagreement over Western Sahara.[104]
After the December 2020 Israel–Morocco normalization agreement, Inhofe sharply criticized the Trump administration for recognizing Morocco's claim over Western Sahara, calling the decision "shocking and deeply disappointing" and adding that he was "saddened that the rights of the Western Sahara people have been traded away".[105]
War in Afghanistan
Inhofe opposed the 2021 withdrawal of U.S. troops from Afghanistan under President Biden, saying that Biden should maintain "a relatively small troop presence until the conditions outlined in the 2020 U.S.-Taliban Agreement are fully implemented."[106]
Immigration
Inhofe wrote the Inhofe Amendment to the Comprehensive Immigration Reform Act of 2006, which was debated in Congress in May 2006. The amendment would make English the national language of the United States and require that new citizens take an English proficiency test. The amendment was passed on May 18, 2006, with 32 Democrats, one independent, and one Republican dissenting. The measure had 11 cosponsors, including one Democrat.[107]
Social issues
Gun policy
In the aftermath of the 2017 Las Vegas shooting, Inhofe blamed the "culture of sanctuary cities" for the shootings.[108]
LGBT rights
Inhofe has generally been seen as overtly hostile by LGBT advocacy groups, earning a 0% in every one of his terms on Human Rights Campaign's position scorecard.[109] Inhofe is in favor of a constitutional amendment banning same-sex marriage, against adding sexual orientation to the definition of hate crimes, and voted against prohibiting job discrimination on the basis of sexual orientation.[110] Inhofe's office has said he "does not hire openly gay staffers due to the possibility of a conflict of agenda."[111]
Inhofe campaigned for his Senate seat in 1994 using the phrase "God, guns, and gays."[112][113] In 2008, his campaign was noted by the Associated Press for running an ad with "anti-gay overtones" featuring a wedding cake with two male figures on top, fading into his opponent's face.[114]
In 1999, along with Republican colleagues Tim Hutchinson and Bob Smith, and Republican Senate Majority Leader Trent Lott, Inhofe stalled the nomination of James Hormel, a gay man, as US Ambassador to Luxembourg for over 20 months specifically because of Hormel's sexual orientation.[115] President Bill Clinton eventually appointed him in a recess appointment, making him the United States' first openly gay ambassador in June 1999, and angering Inhofe, who held up seven more Clinton appointees in retaliation.[116][117]
In 2015, Inhofe condemned the Supreme Court ruling in Obergefell v. Hodges, which held that same-sex marriage bans violated the constitution.[118]
Racial and gender civil rights
In 1995, Inhofe voted to ban affirmative action hiring with federal funds.[119] In 1997, he voted to end special funding for minority- and women-owned businesses. The bill he voted for would have abolished a program that helps businesses owned by women and minorities to compete for federally funded transportation; it did not pass.[120] The next year, Inhofe voted to repeal the Disadvantaged Business Enterprise Program,[121] which is designed to "remedy ongoing discrimination and the continuing effects of past discrimination in federally-assisted highway, transit, airport, and highway safety financial assistance transportation contracting markets nationwide" by allocating 10% of highway funds to benefit the business enterprises of racial minorities and women.[122]
Overall, in 2002, the American Civil Liberties Union (ACLU) rated Inhofe at 20%, indicating that he has an anti-racial civil rights record.[123] Four years later, on December 31, 2006, the National Association for the Advancement of Colored People (NAACP) rated Inhofe at 7%, indicating that he has an anti-civil rights and anti-affirmative action record.[124]
Privacy
In 2001, Inhofe voted to loosen restrictions on cell phone wiretapping.[125] The bill, which passed, removed the requirement that a person or party implementing an order to wiretap a private citizen's cellphone must ascertain that the target of the surveillance is present in the house or using the phone that has been tapped.[126]
Free speech and expression
In 1995, Inhofe co-sponsored a constitutional amendment to the U.S. Constitution that would give Congress and individual U.S. states the power to prohibit the physical desecration of the American flag. The bill's primary sponsor was Orrin Hatch (R-UT).[127]
GI Bill reform
Inhofe, an initial sponsor of Senator Jim Webb's Post-9/11 Veterans Educational Assistance Act of 2008, subsequently withdrew support for this bill to support S 2938, a competing bill that would have provided benefits beyond those offered in Webb's bill.[128] But he voted to enact Webb's legislation in June 2008.[129]
Inhofe agreed to support legislation allowing military mental health specialists to talk with veterans about private firearms in an effort to reduce suicides.[130]
Economic issues
Aviation
Trained by the U.S. Navy, Inhofe is one of the few members of Congress holding a Commercial Airman certificate. In 1994, when he first ran for the U.S. Senate, he used his plane as a daily campaign vehicle to travel throughout Oklahoma and visit almost every town in the state.[131] He has been influential in Senate and Congressional debates involving aircraft regulation.[132]
Taxpayer-funded travel
Inhofe has said that he has made over 140 trips to Africa over about 20 years and helped to get United States Africa Command established.[133] He has made multiple foreign trips, especially to Africa, on missions that he described as "a Jesus thing" and that were paid for by the U.S. government. He has used these trips for activities on behalf of The Fellowship, a Christian organization.[134] Inhofe has said that his trips included some governmental work but also involved "the political philosophy of Jesus, something that had been put together by Doug Coe, the leader of The Fellowship … It's all scripturally based." Inhofe used his access as a Senator to pursue religious goals.[135]
Federal disaster relief
Inhofe has consistently voted against federal disaster relief, most notably in the case of relief for the 24 states affected by Hurricane Sandy,[136] but argued for federal aid when natural disasters hit Oklahoma.[137] In defense of his decision to vote against a relief fund for Sandy but not in Oklahoma after tornadoes ravaged it in May 2013, he claimed the situations were "totally different", in that the Sandy funding involved "Everybody getting in and exploiting the tragedy that took place. That won't happen in Oklahoma."[138] Inhofe pointedly did not thank President Obama for his attention to the tragedy in his state, so as to not be compared to Chris Christie.[139]
Earmarks
In April 2021, Inhofe expressed support for bringing back earmarks to the United States Senate.[140]
Impeachment
On February 12, 1999, Inhofe was one of 50 senators to vote to convict and remove Bill Clinton from office.[141] On February 5, 2020, he voted to acquit Donald Trump.
2016 presidential election
Early during the Republican Party presidential primaries in 2016, Inhofe endorsed fellow Republican John Kasich.[142] Since Trump's election, he has voted in line with Trump's position 94.2% of the time.[143]
Purchase of Raytheon stock
In December 2018, Inhofe bought $50,000 to $100,000 worth of stock in Raytheon, a major defense contractor that has billions of dollars' worth of contracts with the Pentagon. The week before, he had successfully lobbied the Trump administration to increase military spending. Ethics watchdogs said the purchase raised conflict of interest concerns, and noted that members of Congress are not allowed to purchase stocks on the basis of information that is not publicly available. Inhofe sold the stock shortly after reporters asked him about the purchase. He said the purchase was made by a third-party adviser who manages Inhofe's investments on his behalf.[144]
Judiciary
In March 2016, around seven months before the next presidential election, Inhofe argued that the Senate should not consider Obama's Supreme Court nominee because "we must let the people decide the Supreme Court's future" via the presidential election.[145] In September 2020, less than two months before the next presidential election, Inhofe supported an immediate vote on Trump's nominee to fill the Supreme Court vacancy caused by Justice Ruth Bader Ginsburg's death.
Inhofe also voted to confirm Neil Gorsuch and Brett Kavanaugh (Trump's other two Supreme Court nominations) while voting against Sonia Sotomayor and Elena Kagan (Obama's two Supreme Court nominations). All four were successful.
2021 storming of the United States Capitol
On May 28, 2021, Inhofe abstained from voting on the creation of an independent commission to investigate the 2021 United States Capitol attack.[146]
Personal life
In 1959, Inhofe married Kay Kirkpatrick, with whom he has four children.[147][148]
On November 10, 2013, Inhofe's son, Dr. Perry Inhofe, died in a plane crash in Owasso, Oklahoma, flying alone for the first time since training in a newly acquired plane.[149]
Inhofe was the first recipient of the U.S. Air Force Academy's Character and Leadership Award for his character and leadership in public service.[150]
Electoral history
Oklahoma Governor
Tulsa Mayor
U.S. Representative
U.S. Senator
1996 United States Senate election in Oklahoma[160][161]

Primary election
Party
Candidate
Votes
%
Republican
Jim Inhofe (incumbent)
116,241
75.34
Republican
Dan Lowe
38,044
24.66
Total votes
154,285
100.00
General election
Republican
Jim Inhofe (incumbent)
670,610
56.68
Democratic
Jim Boren
474,162
40.08
independent (politician)
Bill Maguire
15,092
1.28
Libertarian
Agnes Marie Regier
14,595
1.23
independent (politician)
Chris Nedbalek
8,691
0.73
Total votes
1,183,150
100.00
Republican hold
2008 United States Senate election in Oklahoma[163][164]

Primary election
Party
Candidate
Votes
%
Republican
Jim Inhofe (incumbent)
116,371
84.18
Republican
Evelyn L. Rogers
10,770
7.79
Republican
Ted Ryals
7,306
5.28
Republican
Dennis Lopez
3,800
2.75
Total votes
138,247
100.00
General election
Republican
Jim Inhofe (incumbent)
763,375
56.68
Democratic
Andrew Rice
527,736
39.18
independent (politician)
Stephen P. Wallace
55,708
4.14
Total votes
1,346,819
100.00
Republican hold
2014 United States Senate election in Oklahoma[165][166]

Primary election
Party
Candidate
Votes
%
Republican
Jim Inhofe (incumbent)
231,291
87.68
Republican
Evelyn Rogers
11,960
4.53
Republican
Erick Paul Wyatt
11,713
4.44
Republican
Rob Moye
4,846
1.84
Republican
Jean McBride-Samuels
3,965
1.50
Total votes
263,775
100.00
General election
Republican
Jim Inhofe (incumbent)
558,166
68.01
Democratic
Matt Silverstein
234,307
28.55
independent (politician)
Joan Farr
10,554
1.29
independent (politician)
Ray Woods
9,913
1.21
independent (politician)
Aaron DeLozier
7,793
0.95
Total votes
820,733
100.00
Republican hold
2020 United States Senate election in Oklahoma[167][168]

Primary election
Party
Candidate
Votes
%
Republican
Jim Inhofe (incumbent)
277,868
74.05
Republican
JJ Stitt
57,433
15.31
Republican
John Tompkins
23,563
6.28
Republican
Neil Mavis
16,363
4.36
Total votes
375,227
100.00
General election
Republican
Jim Inhofe (incumbent)
979,140
62.91
Democratic
Abby Broyles
509,763
32.75
Libertarian
Robert Murphy
34,435
2.21
independent (politician)
Joan Farr
21,652
1.39
independent (politician)
J.D. Nesbit
11,371
0.73
Total votes
1,556,361
100.00
Republican hold
See also
Notes
References
Sources
External links
Recent Elections
2014 US Senator
| | | |
| --- | --- | --- |
| Jim Inhofe (R) | 558,166 | 68% |
| Matt Silverstein (D) | 234,307 | 28.5% |
| Ray Woods () | 9,913 | 1.2% |
| Aaron DeLozier () | 7,793 | 0.9% |
| Joan Farr () | 10,554 | 1.3% |
| TOTAL | 820,733 | |
Source: Ballotpedia
Finances
INHOFE, JAMES M (JIM) has run in 2 races for public office, winning 1 of them. The candidate has raised a total of $8,106,299.
Source: Follow the Money
Committees
Committees
Senate Committee on Armed Services
Senate Select Committee on Intelligence
Senate Committee on Environment and Public Works
Senate Committee on Small Business and Entrepreneurship
Subcommittees
Airland, Cybersecurity, Emerging Threats and Capabilities
Personnel
Readiness and Management Support
SeaPower
Strategic Forces
Clean Air and Nuclear Safety
Superfund, Waste Management, and Regulatory Oversight
Transportation and Infrastructure
Voting Record
See: Vote Smart
New Legislation
Source: Congress.gov
Issues
Committees
Legislation
Issues
Economy
Agriculture
Oklahoma's farming and ranching communities are an important part of our economy. As an advocate for Oklahoma's agriculture production, I know how important producing food is to our national security and prosperity. I continue to support the communities of rural Oklahoma to enact policies that protect the family farm and keep the American food supply safe, reliable and affordable.
In addition to supporting the Farm Bill, I have worked to protect our agricultural communities from President Obama's flawed WOTUS rule that could have designated everything in Western Oklahoma as a wetland. I authored legislation to ensure young people have the opportunity to pursue a career in agriculture by removing barriers to entry for the next generation of America's farmers and ranchers.
I also worked to increase support for agricultural communities after they face a natural disaster. Whether it is wildfires, flooding, tornadoes or other severe weather, when a disaster affects farmers, they need to get resources quickly. I authored legislation that cuts bureaucratic red tape to ensure that USDA can get relief to farmers and ranchers as soon as possible and allows grazing on CRP lands after a wildfire.
Taxation
I have been a long-time advocate for lower tax rates that will foster economic growth, allow families to keep more of their hard-earned money and make it easier for Oklahoma's businesses to grow and hire more hard-working people. Last Congress, we passed the first comprehensive tax reform legislation in three decades that enacted my priorities into law.
The historic tax reform cut taxes for the typical American family by an average of $2,000 each year. It also unlocks the economic potential of the United States economy by lowering taxes on businesses—especially small businesses. Additionally it recognizes the important role of key industries in Oklahoma that create jobs and invest in our state, such as the oil and gas industry, by protecting percentage depletion and intangible drilling cost provisions.
Because of historic tax reform, Congress has made doing business in the United States competitive again, so companies are no longer encouraged to move American jobs overseas. President Trump is already growing the economy by cutting regulations—this tax cut will only do more to drive the engine of the American economy to new heights and benefit hardworking families.
Education
Education
Parents, teachers, administrators and locally-elected school boards are best equipped to make decisions about educating Oklahoma students—not the federal government. I'm working to shift more decisions and authority away from the federal, "one-size-fits-all" policies and sending it back to the state and local governments.
To support education in our local communities, I'm focused on ensuring our students are educated about our nation's founding principles and civics – to protect our values and democracy in the long run.
I'm also committed to improving our career and technical education systems to support workforce development efforts. I've authored language to expand access to career-tech programs for students from all backgrounds and interests, including veterans and high-school graduates interested in aviation.
Lastly, as a state with five military installations, Oklahoma especially values Impact Aid, the program that reimburses school districts for lost tax revenue from federal property or military installations. Impact Aid can be used for a wide variety of educational needs and does not include any overbearing strings or limitations. Many schools in Oklahoma rely on Impact Aid, and I am proud to lead the effort every year to ensure it is fully resourced.
Environment
Energy + Environment
As the former Chairman of the Senate Environment and Public Works Committee, I have been focused on cutting regulations that limit an "all of the above" energy policy and have worked to increase domestic energy production and achieve energy dominance. We're well on our way—since the election of President Trump, we've become the global leader in oil and natural gas production and have dramatically increased our exports of crude oil, coal, and liquefied natural gas.
America's energy supply should be stable, diverse and affordable. We must continue to work to increase exploration and production of natural gas and oil, continuing the development and use of coal, along with the development of renewable sources of energy and further develop nuclear energy.
Working with President Trump, we have won the latest battle on fossil fuels, but the war is still being waged. I will continue to defend an industry that employs millions of Americans, provides more than a trillion dollars to our economy and allows Oklahomans to heat our homes, get work and cook our meals.
In the past year, I've been on the front lines of leading the expansion of our domestic resources, including opening a portion of the Arctic National Wildlife Refuge in Alaska to energy exploration. I have also focused on infrastructure permitting reform. Red tape and improperly used review processes have hindered our ability to best access and use our existing energy sources—forcing cities in the Northeast United States, like Boston, to import LNG from Russia, rather than domestically.
Health Care
Health Care
I've long believed that health care decisions should be between a patient and their doctor—not government bureaucrats. For too long, the Obama administration tried to insert themselves into families' medical and health care decisions. We saw the results: skyrocketing costs and fewer options for care, especially in rural communities.
As a member of the U.S. Senate Rural Healthcare Caucus, I am committed to finding solutions to improving accessibility to quality care for those in rural parts of Oklahoma and our country. While health reform is needed to provide quality medical care and stem the ever growing cost of health care, government takeovers are never the answer.
I'm proud that we repealed the individual mandate of Obamacare, and supported the patient-centered Republican efforts to replace Obamacare—voting for efforts that would have provided relief to Oklahomans struggling with increasing premiums. While disappointed that the effort of a broad repeal came up short, I am committed to repealing and replacing it in its entirety.
Immigration
Immigration
I was a builder and developer in south Texas for 20 years and know the situation we face at the border. After visiting it regularly for the last five years, I know the situation is getting worse. That's why I wholeheartedly agree with President Trump – we need to build a wall to secure our southern border. I've introduced the WALL Act, the only legislation to fully pay for the construction of the wall by closing loopholes that allow illegal immigrants to receive federal benefits and increasing minimum fines on illegal border crossers.
Building the wall and securing the border are key – but we also need to address additional loopholes and flaws in our immigration system. I introduced the Asylum Abuse Reduction Act that, among other provisions, would require migrants to declare asylum at our embassies and consulates in Mexico or Canada before entering into the United States to end the practice of "catch and release." President Trump has enacted much of my legislation through executive order.
As we discuss legislation to reform our immigration system, I have long held that three key principles should be part of any reform: immigration solutions cannot grant amnesty, shortcut the naturalization process or ignore our nation's laws by rewarding illegal activity. I will hold true to these conservative principles when considering any legislation before the Senate.
Infrastructure
Transportation
One of the inherent roles of government is to provide for a safe and suitable infrastructure to allow our nation access to transportation and fully connect our national economy. In addition to providing for the national defense, I believe the single greatest service we can provide our citizens is the necessary infrastructure to enable the United States to remain the economic engine that drives the world's economy.
As the past Chairman of the U.S. Senate Environment and Public Works Committee, I have worked to pass highway bills and water resources acts which have been historic for the nation and provided victories for Oklahoma. These bills have used our resources in a fiscally responsible manner and eliminated federal red tape to allow for more state and local control and for new construction and modernization of our nation's crumbling bridges, roads and infrastructure.
Additionally, as an active aviator for over forty years, I've seen firsthand how important our aviation infrastructure is for continued economic growth in Oklahoma. I am committed to helping the general and commercial aviation industries in Oklahoma. I will also work to make sure that our existing commercial airports get the resources they need to fulfill increased security requirements.
Veterans
Veterans
There is no adequate compensation for the sacrifices our nation's veterans have so bravely made on behalf of the United States. As the Chairman of the Senate Armed Services Committee, and as an Army veteran, I am committed to standing up for all of our nation's veterans and ensuring that we honor each of them with the proper care and support.
As a tireless advocate for our veterans, it is critically important to me that Oklahoma set the benchmark for the rest of the country in how we treat our veterans – and we're doing exactly that. In just the last few years, I've enacted legislation to do everything from allow independent, third-party inspectors at VA hospitals to pushing all veterans care facilities to strive for higher rankings. I've also worked with President Trump to reform the VA and increase accountability—giving VA directors the ability to fire poorly performing employees and strengthening whistleblower protections. I am committed to a culture of continuous improvement at the VA.
For over 18 years, I have led a task force of veterans to stay apprised of the issues facing veterans in Oklahoma and across the country. These monthly meetings have resulted in legislation to increase education benefits, establish state of the art medical treatment facilities, and increase health care benefits and pension plans that enable our nation's bravest men and women to have the ability to transition out of military service with world-class support. I look forward to continuing to work with President Trump to provide America's soldiers and veterans the best possible care we can.
Adoption + Life
Our Declaration of Independence guarantees each American the right to "life, liberty and the pursuit of happiness," and I stand up for the unborn across America in fighting for the sanctity of human life. I am pro-life, and I am proud of it. I support adoption as an alternative to abortion.
To support adoption, I serve on the Congressional Coalition on Adoption and have enacted many proposals designed to encourage domestic and international adoptions for American families.
Our family knows the joys and blessings adoption can bring; my granddaughter, Marie, was adopted from Ethiopia when she was a baby. To support all families who want to grow their families through adoption, I have led initiatives to promote safe, efficient adoptions and authored legislation that encourages more families to take in children in need of foster care.
To defend the right to life, I have been a leader on legislative efforts to end the practice of abortion, including the Life at Conception Act, the Born-Alive Abortion Survivor Protection Act and the Pain-Capable Unborn Child Protection Act. I also continue to work to defund Planned Parenthood by voting to overturn Obama-era regulations that tried to prevent states from withholding money from abortion providers.
Foreign Policy
Since the election of President Trump, I've noticed a marked difference in how America is perceived in the international community. After recovering from President Obama's failed foreign policy initiatives, the United States is once again able to negotiate from a position of strength as the undisputed leader of the free world. Under President Trump we will continue to put the vital interests of the United States above the maintenance of global institutions to ensure a free, safe and prosperous America.
As the Chairman of the Senate Armed Services Committee, I work on numerous foreign policy issues to ensure that we are trusted by our allies and feared by our adversaries. In the Senate, I've led efforts to take a hardline stance against rogue regimes, like Iran and North Korea, as well as preventing malign activity from our strategic competitors, like Russia and China.
I've stood up for our allies and friends, like Ukraine and Taiwan, and supported President Trump as he pulled the U.S. out of unaccountable bad deals, like the INF treaty and the Iran Deal. I've made sure our best friend in the Middle East, Israel, is taken care of–including by making sure our embassy was finally moved to Jerusalem. I've also worked diligently to stand up for marginalized communities. I'm going to continue to work with our allies and partners around the world to promote our American values of freedom and democracy.